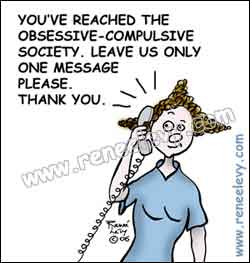 OC3 – Obsessive comparing and competing.
I've just read an interesting article on line about OC3. It seems to be a made up disorder, but one I know I can apply to myself and I'm sure many others can too.
The author's definition is this:
Obsessive-compulsive comparing and competing is a psychological condition that impacts negatively on a woman's self-esteem. OC3 is manifested in a variety of forms, but is most commonly characterized by a woman's obsessive (repetitive, distressing, intrusive) need to compare herself to other adults – usually women – accompanied by feelings of compulsion to act in such a way as to try to neutralize the competition."
The author goes onto to say that it tends to occur in younger women and is something we grow out of.
I recently had my 40th birthday and I feel great. My outlook has changed. I've spent years comparing myself to other people and deciding that I am inferior because "I don't have their fashion sense" or "I can't style my own hair like that" or "they're really good at their job".
Well hey! I've taken the decision not to do that any more. When I start to think of myself in inferior terms, I stop and try and think of 3 great things about me or what I've done today.
Try it – it really works.
If you want to read the article its on
www.selfesteem4women.com/_lib/eZine/articles/cc_0609.php